Chris Cain Band Live at The Studio
Event Navigation
Join us at The Studio a pro bluesman, Chris Cain Band Live at The Studio.
Date: Friday, Oct. 13th
Time: 9:30 pm to 12:30 am
BLUES GUITARIST CHRIS CAIN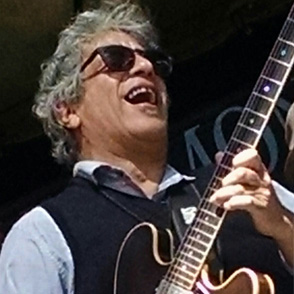 Chris Cain's jazz-tinged, blues soaked guitar and deep, warm vocals have the maturity and authenticity of bluesmen many years his senior. His expressive style is the result of a lifetime of study and the relentless pursuit of music mastery. His passion and intensity are a blend of his mother's Greek ancestry and his father's soulful black heritage.
"Nowadays most young blues players are Strat-wielding Stevie Ray Vaughan-a-bes. Not Chris Cain. With a voice that recalls B.B. King and a thick toned Gibson guitar sound reminiscent of Albert King, Cain is forging a unique style. With his own highly personalized songwriting, "Hall Of Shame" is a giant step in the development of one of the most compelling young bluesmen on today's scene."
-Larry Nager (syndicated Scripts-Howard music critic)
SaveSave
SaveSave
SaveSave
SaveSave
SaveSave
SaveSave
SaveSave
SaveSave
SaveSave
SaveSave