Chris Cain & Friends featuring Simon Kenny Lewis (From Australia)
December 16 @ 7:00 pm

-

10:00 pm
Event Navigation
Join us at the Poor House Bistro patio for pro bluesman, Chris Cain & Friends featuring Simon Kenny Lewis (From Australia).
Date: Saturday, Dec. 16th
Time: 7:00 pm to 10:00 pm
BLUES GUITARIST CHRIS CAIN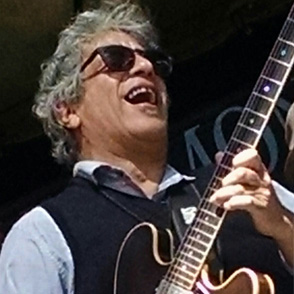 Chris Cain's jazz-tinged, blues soaked guitar and deep, warm vocals have the maturity and authenticity of bluesmen many years his senior. His expressive style is the result of a lifetime of study and the relentless pursuit of music mastery. His passion and intensity are a blend of his mother's Greek ancestry and his father's soulful black heritage.
"Nowadays most young blues players are Strat-wielding Stevie Ray Vaughan-a-bes. Not Chris Cain. With a voice that recalls B.B. King and a thick-toned Gibson guitar sound reminiscent of Albert King, Cain is forging a unique style. With his own highly personalized songwriting, "Hall Of Shame" is a giant step in the development of one of the most compelling young bluesmen on today's scene."
-Larry Nager (syndicated Scripts-Howard music critic)
" Great man. Your voice has a little Bonamassa in it.. which is cool. Love the tune too. KILLER solo! "
– Steve Lukather ( Toto, Michael Jackson, Ringo  Starr, G3 ) on the title track " Street Blues "
Simon Kinny-Lewis has been making his mark globally as one of the top players in the new class of six-string wunderkinds. His playing and singing have been recognized by some of the best in the business, Steve Lukather, ( Toto ) T.J Helmerich ( Vai ) Robert Marcello, Chris Cain, Martin Miller, Christian Howes to name a few.
Captivating audiences all over the world with his unique blend of Blues and Rock Guitar style and soulful voice and backed by his world-class band ft Rick Melick (Joe Bonnamassa Band) on keys, Tony Boyd ( Mal Eastik ) – drums, and Rob Ewan – bass, he is one of Australia's best.
SaveSave
SaveSave
SaveSave
SaveSave
SaveSave
SaveSave
SaveSave
SaveSave
SaveSave
SaveSave
SaveSave
SaveSave
SaveSave
SaveSave
SaveSave
SaveSave
SaveSave
SaveSave
SaveSave
SaveSave
SaveSave
SaveSave
SaveSave